"Be joyful always; pray continually; give thanks in all circumstances,for this is God's will for you in Christ Jesus."
1 Thessalonians 5:16-18
Did you know that it is impossible for self-pity and thankfulness to reside in your heart at the same time? It is. I know, because I have practiced self-pity in my heart plenty of times and there wasn't room for thankfulness along with it.
My motherhood journey has not always been an easy one. It is certainly not what I expected when I began it ten years ago. Our oldest son was born with a congenital birth defect of his eyes, requiring him to have three surgeries before he was five years old. Our second son was born healthy, after three painful miscarriages. When our third son was four days old, we were told he was born with a congenital birth defect of his heart, requiring him to have a life-saving open heart surgery. I was devastated. Besides the health issues, we were struggling with another child who was ADHD and SPD. I began to slip into a pit of self-pity. "Why us, Lord?", was a frequent heart cry. I truly felt my burden was too heavy to bear. It felt as though God was slowly crushing all my dreams of what I thought motherhood was going to be. I had expected motherhood to be blissful. I had not expected disappointment, fear and anguish. My self-pity felt very much justified and I reveled in it for quite a while.
I thank God that during that dark time, He led me to women who covered me in prayer and spoke the truth of His word into my life. It took a long time for me to realize that my self-pity was because I was being forced to let go of my hopes and dreams of perfection. I can remember the exact moment I let go and accepted God's will for me as a mother. I was driving in my car and I heard a song from Avalon. It was as if God was speaking these words to me:
"The dreams I dream for you, are deeper than the ones you're clinging to.
More precious than the finest things you do, and truer than the treasure you pursue.
Let the old dreams die, like stars that fade from view.
Then take the cup I offer, and drink deeply of the dreams I dream for you.
Our fourth child was born three years ago. As I was nursing her one day, I sat looking into her eyes and a nagging suspicion was confirmed. She had the same congenital birth defect of the eyes as her brother. I sat quietly for a few moments, my mind fighting between self-pity and peace. Finally, with tears, I accepted what was. It was so much easier with her. I had long ago given up my picture of the perfect children and perfect christian family. God has no use for our self-made perfection. He does have use for a heart flowing with thankfulness.
It takes time to learn to replace self-pity with thankfulness. It is a choice made every day. But like all things in life, with practice, it becomes easier. I have to remember that it is God's will for me to be thankful in all circumstances.
If you are a mother and you are in a difficult place with your children, I invite you to join me in practicing thankfulness. Here are some powerful truths from His word to help us.
1.) Your child was formed by the same loving creator who formed the heavens and the stars. (Psalm 139:13-16)
2..) Your child is a blessing and a special gift to you from God. (Psalm 127:3-5)
3.) God will gently and lovingly lead you as you mother your children. (Isaiah 40:11)
4.) God's ways are perfect and beyond our finite understanding. (Isaiah 55:8)


5.) Others may not see your sacrifice, but God does. He says that whatever we do for the "least of these" we do for Him! (Matthew 25:34-40)
Thank God daily for the gift of motherhood. Thank Him for opening your womb and allowing you to be a part of the beautiful process of creation. Be thankful that your difficulties are refining you and making you more into the likeness of Christ everyday.
Let's make it our habit, mothers, to practice thankfulness in all circumstances.
Linking up to:
Join us for Gratituesday at Heavenly Homemakers!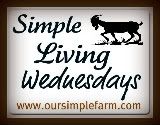 Are you encouraged here? I invite you to subscribe to Hope for the Difficult Child (it's free!) and receive our latest posts straight to your inbox. Connect with us on facebook and receive updates not posted on our blog.